"You will always get what you pay for, plus much more!"sm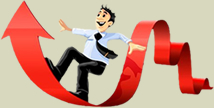 Your website should generate revenue! If it does not, what is the point of having a website? We will do our best to teach you how to generate revenue.

We at Creative Websites have the experience and skills you need to market your website! We don't think that anyone can compete with our website quality and customer service! Our goal is to teach you how to
generate revenue
with your new or existing website. By doing so we can easily cost justify the new website we build for you, or optimize your current website.

Creative Websites
Idaho Falls, Idaho
Logan, Utah
The firm is comprised of a trusted team of website experts and other products training experts. Our goal is to design an eye-catching website that will motivate your customers to call you and buy your products through your website or over the phone. We use PayPal for your shopping cart. We have the team you need, a team of professionals with over 30 years of business experience providing the highest degree of professional service available at a very reasonable price. Your website can't attract customers without Meta Tags, Keywords and search engine optimization. We can help you get the results you need!




We are a website design and website development company specializing in great service at affordable website design prices. Our web developers work hard for you! We are dedicated to developing our clients' websites, Meta Tags and Keywords for maximum website exposure for potential decision makers who may buy your products. We put you in control, first by listening, and then by working with you to design unique solutions that help deliver maximum growth potential for you and your company.
We guarantee our results!
(See
Limited Guarantee
tab that is subject only to CW's approval and authorization.)
Please contact us to set an appointment for a free,
no-obligation website cost analysis.



Business Hours: By Appointment Only

Idaho Falls, Idaho - Logan, Utah

Telephone: 208.569.8969


CWI offers website design, website development and many other services. Idaho and national website design. This includes Idaho Falls Idaho website design and we have a large base of customer in Idaho that require Idaho website design. We are located in Idaho Falls Idaho but can build websites in all English speaking countries.
Website Address:
www.CreativeWebsitesInc.com
Email address:
a4alison789@gmail.com
website design,website development,Idaho website design,Idaho Falls website design,Franchise Opportunity, Franchise opportunity,consulting,
D-U-N-S Number 01-630-1361